All news
Mobile stunner is a double first for Australia
11 August 2023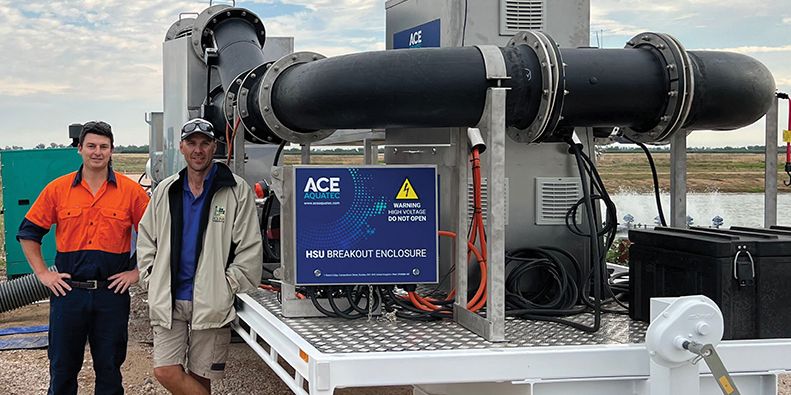 New South Wales fish farmer Aquna Sustainable Murray Cod is a vertically integrated producer rearing Australia's largest freshwater fish from egg to pond to plate. With sector leading sustainability practices on its grow-out farms in the Riverina region, the company has now added an Ace Aquatec in-water electrical stunner to its harvesting operations, a first for this fast-growing industry and for the region.
The Ace Aquatec system has resulted in less manual handling, reducing potential injury to staff from the fish which are harvested between 12 and 18 months when they are 1-2kg and covered in spikes. But, as Aquna managing director Mat Ryan said, the biggest benefit is in improved welfare, as the fish, a perch species, remain in water until they are stunned.
'The big thing for us was integrating the stunner into our pumping system so the fish are pumped and stunned before they even leave the water. And because we're now harvesting on site, the fish are stunned and bled before being transported on ice to the processing plant.'
To meet the requirements of the farm, the stunner was mounted on a trailer, creating a mobile harvesting system in another first for Ace Aquatec.
'We're geographically spread over a large area,' said Ryan. 'Our processing plant is in Griffith and our farms, including the hatcheries, span more than a 100km radius around Griffith. That presents challenges, both from a fish welfare and fish quality perspective, when transporting live fish and then stunning them at the plant. Being able to install the stunner on a mobile trailer has made moving the stunning system from one site to another relatively easy, optimising fish welfare during the process.'
Aquna's land-based production model raises young fish in recirculation tanks before transferring them to grow-out ponds, or dams, on the Murray-Darling river system, the fish's native environment. As a vertically-integrated producer of Murray cod, Aquna has control over quality from pond to plate. It breeds, grows and supplies premium Murray cod to high-end restaurants, wholesalers and export markets.
'Our goal has been to set the benchmark and be one of the most sustainable aquaculture producers in the world,' said Ryan. 'Our feed conversion ratio is 1.5:1, the lowest for all major protein groups, and we re-use 100 per cent of the water from the fish ponds for irrigation or pasture on farms. And our Griffith processing plant diverts tonnes of organic waste from landfill through partnerships with local recyclers and pig farms.'
Aquna participates in a government restocking programme which, to date, has seen more than 20 million fingerlings of Murray cod released into the Murray-Darling river system. Production at Aquna is forecast to be 500 to 600 tonnes this year, and the company is targeting 10,000 tonnes by 2030.
'We've got a pretty ambitious growth curve and the stunner will be able to handle all our needs over the next 10 years.
The decision to choose the A-HSU™ (Humane Stunner Universal) was down to the adaptability of the technology, as well as its track record in reducing stress to fish.
'We're dealing with a species of fish that's never been farmed anywhere else in the world and other stunning systems didn't have the ability to accommodate that,' said Ryan.
'This was a pretty significant investment for a company of our size so for me to be able to go to our board of directors and say I want to spend this sort of money on something that's never been done before, I had to have confidence in the product.'
Lachlan Bassett, General Manager of Fresh by Design, the Australian equipment supplier which installed the Aquna system, and Ace Aquatec's local distributor, said there is growing consumer awareness around fish welfare in Australia.
'I think fish have slipped off the animal welfare radar in the past but it's definitely becoming more prominent now and that global awareness is trickling down to our region. Aquna wants to lead the way in Australia for fish welfare.
'Working with Aquna and Ace Aquatec, we've been able to tailor a solution that was very specific to the welfare of this fish and to these site conditions.
'We were extremely happy with how the project went. The in-house engineering capabilities of Mat and his team helped us commission the stunner very smoothly and we look forward to supporting the system for the next 10+ years as Ace Aquatec's local distributor.'