All news
New way of protecting wildlife during offshore construction
30 June 2022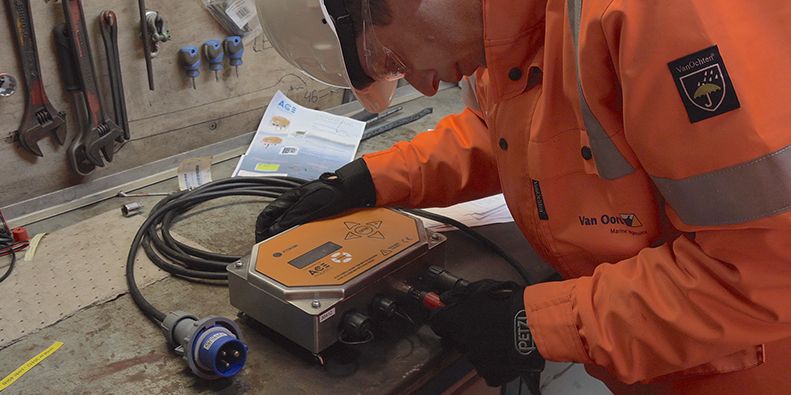 A range of acoustic protection devices that keep marine life safely away from offshore construction sites is proving effective in markets worldwide, particularly in the renewables and oil and gas sectors.
The FaunaGuard system, a collaboration between Ace Aquatec and Netherlands based Van Oord Dredging & Marine Contractors, creates temporary exclusion zones for marine animals by targeting their hearing ranges and repelling them with specialised underwater sound patterns.The aim is to put the lowest amount of noise possible in the water while still being effective.
Offshore construction activities, such as pile driving and underwater explosions, can cause deafness and other serious physical harm to local marine life if precautions are not taken. And projects can incur costly delays if a protected marine species is spotted inside a designated exclusion zone.
Innovative, modular FaunaGuard systems, which have been deployed in offshore developments from Germany to the Middle East, emit sounds that are species specific. So far, purpose-built modules have been designed to safeguard seals, porpoises, turtles and fish.
The devices combine Van Oord's academically validated sound patterns with Ace Aquatec's award-winning acoustic transducers to temporarily deter wildlife from offshore installations, marine engineering, or events such as clearing oil spills.
Ace Aquatec's Andrew Gillespie, FaunaGuard Manager, said 'This new way of protecting fauna is used prior to work commencing, allowing animals to move away before noise becomes potentially harmful. The system builds on Ace Aquatec's acoustic startle response systems for the aquaculture sector.
'These devices are designed to remove marine fauna from active construction zones, such as wind farms, and are more of a temporary protective measure.'
Van Oord, a leading offshore wind developer, first started researching the system 10 years ago and has since refined the sound characteristics for each animal.
'All marine life is different – fish, turtles, seals and dolphins all hear at different ranges and at different sensitivities,' said Gillespie. 'Van Oord had been working on a prototype of the FaunaGuard device and teamed up with marine researchers in the Netherlands to develop sound patterns, based on turtles initially, to try to induce a behavioural response. They then replicated that for fish, seals and porpoises. Around the same time, Ace Aquatec's Managing Director, Nathan Pyne-Carter, was approached by marine contractors to see if Ace Aquatec's acoustic startle response systems could be used at offshore wind construction sites.
'The two companies decided to collaborate, bringing Ace Aquatec's expertise in acoustic hardware and service contracts on board with Van Oord's initiative, to create a unified product.' FaunaGuard devices are all about the quality of sound as opposed to the quantity, just like the Ace Aquatec acoustic startle response systems, said Gillespie.'Both sets of devices have complex tonal patterns, with various harmonics, upsweeps, impulses and spaces built in. They are random and not repetitive; the timings are unpredictable, reducing the possibility of habituation and making that site unattractive to target species groups.
'The philosophy behind the Ace Aquatec aquaculture systems was short, sharp tonal bursts – an acoustic startle response to keep seals away from fish farms, where there is a food source. The Van Oord philosophy is lower volume, marginally longer sounds, designed to be a temporary measure while construction work is going on.'
FaunaGuard was initially deployed in Germany, where regulators approved the system to keep harbour porpoises at a safe distance for the duration of an offshore wind construction project.
The building of the 385-megawatt offshore wind farm Arkona, which supplies sustainable energy to 400,000 households, was a reference landmark in noise mitigation. FaunaGuard has also been used in projects in France, the Netherlands - and in Italy's first offshore wind farm, protecting dolphins from approaching the project during piling operations. As well as the European market, further projects include an oil and gas development in Qatar and another in Azerbaijan.
Ace Aquatec is currently hoping to start winning contracts in Scotland, too, said Gillespie: 'We are working with local regulators to provide validation that will ensure the same environmentally responsible systems are available to the Scottish market. We now wish to emulate our European success at home.'
He added: 'We continue to maintain a 'welfare first' philosophy across our entire product range, as aquaculture and marine industries follow best practice in order to comply with increasing levels of regulation.