All news
Ace Aquatec transforms operations for Australian Murray Cod producer with trailer mounted humane stunner
19 July 2023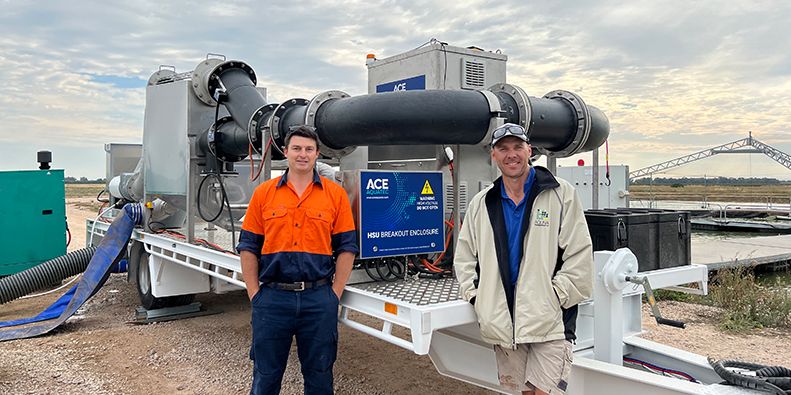 Ace Aquatec, the award-winning aquaculture technology company which specialises in welfare-first outcomes, has transformed welfare and efficiency standards for Aquna Sustainable Murray Cod, having successfully installed its first trailer mounted in-water stunner, overseen by Australian distributor Fresh by Design.
As one of the few Murray Cod fisheries in the region, Aquna Sustainable Murray Cod supplies premium, pond-grown produce for the iconic Australian fish which has increased in popularity in recent years. Situated in remote and challenging landscape, Aquna were looking for a solution that enabled them to harvest these unique fish in a more efficient and ethical manner and opted for Ace Aquatec's in-water stunning technology, which has a demonstrable track record of reducing stress to fish at the point of harvest.
Since installing the stunner in April, Aquna Sustainable Murray Cod have seen a vast improvement in the welfare of the fish during the harvesting process and have made huge strides in reducing the environmental impact of their harvesting practices.
The in-water nature of Ace Aquatec's humane stunner solution no longer requires Aquna to use percussion stunning techniques, which can be stressful for fish and the staff who handle them. The bespoke solution also means that live fish are no longer transported over long distances, which was stressful to fish and required the use of large vehicles. The trailer mounted stunner is integrated to Aquna's pumping system, a bespoke modification meaning there's a seamless transition from water to ice, resulting in safer and more humane processing of fish, safer staff, and greater efficiency across the harvest.
The growing popularity of Murray Cod among the high-end restaurant market, along with interest from domestic and international markets including the USA, Spain and Japan, means that efficiency was also a key consideration in developing the stunner system. Aquna Sustainable Murray Cod has growth ambitions of producing 10,000 tonnes by 2030 and having produced 4-500 tonnes of fish already this year, the installation of this technology will support this growth as the popularity of the fish continues to grow.
Mat Ryan, Managing Director of Aquna Sustainable Murray Cod, said: "Our sites are spread across 200km so the tailored solution offered by Ace Aquatec has allowed us to integrate with a mobile trailer to harvest on site at a time that works for us which has made a huge difference to us in terms of welfare and fish quality, not to mention the vast reduction in on road transport and consequent environmental impact. Aquna Sustainable Murray Cod has big growth plans, but only if this is done in a high-welfare, high-quality way, which the installation of the stunner allows us to do in so many respects. We want to lead the way in fish welfare in a commercial setting and this has helped us be at the forefront of high-welfare production of this iconic Australian fish."
Tara McGregor-Woodhams, CSMO of Ace Aquatec, said: "Aquna came to Ace Aquatec because they wanted to be the first producer in Australia to stun their Murray Cod humanely, using our in-water electric technology. By working so closely with the team at Aquna Sustainable Murray Cod, we have developed a unique stunner system that not only improves the welfare of the fish, but greatly improves the efficiency of the whole process, provides safer conditions for staff, and minimises the environmental impact of the harvesting process. Mat and the team at Aquna Sustainable Murray Cod have shown strong leadership in the way Australian fisheries approach high welfare fish production, enhancing their quality and welfare first promise to their customers."
Fresh by Design General Manager, Lachlan Bassett said: We love a challenge and is exactly what we faced with Aquna. The nature of their location and product meant that a bespoke solution was needed and we were delighted to work with them to design and install this humane stunner system, specifically for the Murray Cod species. As awareness of fish welfare grows, both among consumers and investors, we are excited to see Mat and the team at Aquna Sustainable Murray Cod lead the way as the welfare gold standard."