All news
Philosofish proactively reshapes Greek aquaculture with state-of-the-art harvesting
11 August 2023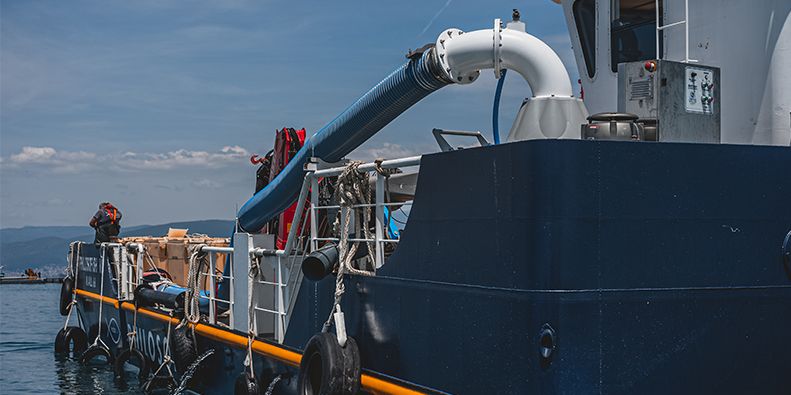 One of Greece's leading fish farming companies said its business had been 'transformed' after the installation of Ace Aquatec electric stunners aboard two of its harvesting vessels.
Philosofish, the second biggest Greek producer of Mediterranean fish, has been operating the in-water A-HSU™s (Humane Stunner Universal) for the past few months. The first stunner was fitted to an existing boat in Rhodes, which was repurposed to accommodate the equipment. The second stunner was incorporated into a new build, designed, and constructed by Stamatiou Aquaculture in collaboration with Ace Aquatec.
Beyond providing a more ethical, stress-free harvesting experience for the fish, the in-water stunner has greatly improved the quality of the final product, said Philosofish. The company, headquartered in Athens, chose the Ace Aquatec stunner because of its 'exceptional effectiveness' in delivering humane harvesting and its track record in production efficiency.
A pioneer of sustainable fish farming, Philosofish prides itself on producing the highest quality fish while using state-of-the-art technology in order to reduce its environmental footprint. The company said it is committed to setting industry benchmarks for animal welfare, leading the way in integrating responsible practices and fostering a culture of compassion and respect for life in the Greek aquaculture sector.
'We've adopted humane harvesting methods not because it's an industry standard, but because we believe it's the right, humane thing to do,' said Nikos Liberis, CEO of Philosofish.
'There's a growing emphasis on welfare in fish farming in Greece, particularly at the time of harvesting. There has also been a noticeable shift towards humanely harvested fish in our main markets as consumers become more conscious of animal welfare.
'Yet, this is a trend that we've been championing and advocating for quite some time. As a company, we believe in proactively shaping industry standards, rather than just adapting to them. We firmly believe in upholding the highest welfare criteria for our fish, irrespective of market trends.
'Our goal is to not only embrace progressive practices but to also inspire others within the industry to follow suit and push the boundaries in Greek aquaculture.'
Ace Aquatec Sales and Partnerships Manager for EMEA (Europe, the Middle East and Africa) Costa Skotidas said the values of Philosofish align closely with those of Ace Aquatec.
'Philosofish approached us because they wanted to consolidate their operations and transform their boats into state-of-the-art harvesting vessels. They are a forward-thinking company, and their focus is on investing in the future of fish farming. Combined with Ace Aquatec's technical expertise and the welfare benefits that our in-water electric stunner brings, it was a brilliant collaboration and we're so proud to see the results.'
'As sustainability comes to the forefront in seafood production, it's a must that we look at the harvesting process. Our role is to advise the sector on best practices and offer a solution that can drive efficiencies and, most importantly, put sustainability first.
'There are anticipated regulatory changes in the region regarding harvesting and there has been a big change within the marketplace. Fish farmers say the two questions they are asked most by customers are what goes into the feed and how are the fish harvested.
'Potential clients looking to build harvesting boats want to know the dimensions of the Ace stunner so they can ensure they can accommodate our technology.
'We collaborate with each client to meet their specific needs, tailoring the system to the unique requirements of the boat in the case of the newest Philosofish stunner. We can fit our stunners on to existing vessels but we had a great opportunity here to work with our partners on a bespoke boat.'
Ace Aquatec's partner in the region, Stamatiou Aquaculture, has more than 30 years' experience in the aquaculture sector and is well placed to share expertise with fish farmers interested in improving welfare standards and quality control at harvest.
Ace Aquatec already had a foothold in Greece, with an on-board installation for another big sea bass and bream producer, and there are other projects in the pipeline, said Skotidas.