All news
Stunner delivers stress free fish – and staff – in Japan
11 August 2023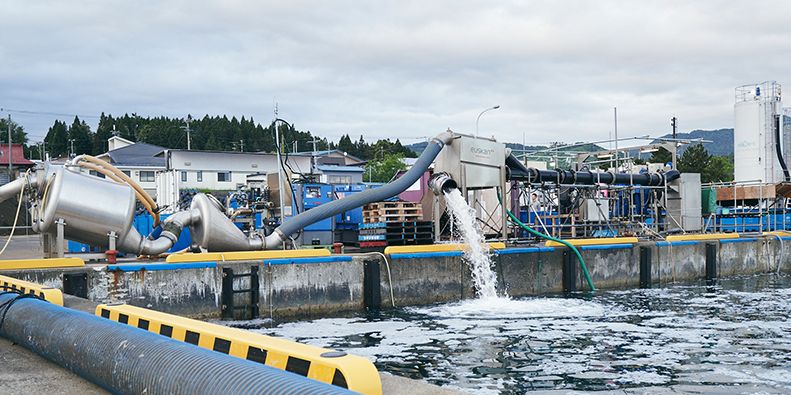 A rainbow trout farmer raising fish in the Sea of Japan said customers noticed an immediate improvement in the quality of their product after they installed Ace Aquatec's in-water electric stunner.
Japan Salmon Farm was established five years ago near Aomori, farming trout in the fast currents and cold pure waters of the Tsugaru Strait. With current tonnage of 1,600 tonnes but capacity to grow to 10,000 tonnes a year, the company decided to switch from dry stunning in electrified nets to the more efficient and more humane in-water Ace Aquatec technology three years ago. Since then, said Japan Salmon Farm CEO Kosuke Suzuki, throughput at the processing plant has doubled and the company's buyers are delighted.
'We sell mostly to the domestic market at present and Japanese customers are very insistent on top quality. As soon as we started stunning the fish in the humane stunner, our buyers asked 'have you changed something?' because they noticed a difference in the meat texture.'
In the Ace Aquatec Humane Stunner Universal (A-HSU™) fish are stunned in less than one second, with minimal stress or handling prior to slaughter. This results in less bruising, blood-spotting and skin damage and also reduces levels of cortisol, which is released when fish are stressed, lowering the quality of the fillet.
Suzuki saw for himself how effective the stunner was during his regular visits to Musholm A/S, which - like Japan Salmon Farm - is also part of Japan's Okamura Food co. Ltd group, and has been farming rainbow trout on Denmark's Great Belt since 1979 and has two A-HSUs fitted, both on board boats.
He took advice from Musholm Farm Manager Anders Lejbach, who reported increased productivity at the Danish farms.
In Japan, the A-HSU™ is installed at the water's edge in the port and fish are pumped in from a square harvesting cage, towed from the sea pens. The fully unconscious fish are then packed on ice and transported by road to the processing plant, about an hour's drive away.
'The processing staff are happier because the fish are much easier to handle,' said Suzuki. 'Before, some fish were not stunned properly so they moved about a lot and made the process difficult. Now that we have 100% stunning rates, production is faster.'
Japan Salmon Farm, which in 2019 became the first salmonid producer in Japan to obtain ASC salmon standard certification, grows its young fish in outdoor, freshwater hatcheries from November to November. Smolts are transferred at 500g to twelve x 125m sea pens. They are harvested after another six months when they are around 3-3.5kg.
As the only rainbow trout farmer in the region, other producers follow the company's progress and there has been particular interest in the electric stunner, said Suzuki.
'We have had visits from several other companies, including coho salmon and yellowtail farmers, who want to observe the technology in action.
'We are a step ahead on welfare issues compared to our Japanese competitors and we are proud to lead the way here in Japan, and as we look to develop export markets in South-East Asia.'
Despite the remoteness of the location from Scottish based Ace Aquatec, and the Covid lockdowns, Japan Salmon Farm has found the installation, day-to-day handling and maintenance of the stunner straightforward, said Suzuki.
'The instructions are very precise and it's easy to trouble shoot remotely when dealing with Ace Aquatec's experts. Also, the stunner has few parts so it is easy to assemble. We have been able to manage very well with Teams!
'The main reasons for moving to in-water stunning were for greater efficiency, better fish welfare and higher quality. But the Ace Aquatec staff were also an important factor.'