All news
Shout Out for Sustainable Trout!
30 June 2022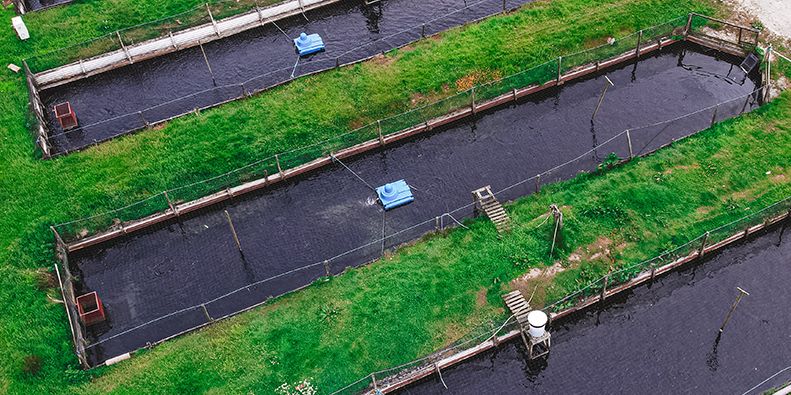 Selcoth Fisheries Ltd near Moffat in Dumfries, Scotland is a third-generation family farm that has fully embraced high welfare, sustainable trout framing. Run by Oliver and Shara Routledge the mixed hill farm is now powered by green energy from its impressive hydro-electric scheme.
When we took over the farm from Dad in 2011, we were only doing juvenile, fingerling supply for a combination of Dawnfresh and Kames. We needed to improve cash flow and give my Dad a decent pension income, so we decided to move into the portion trout market.
Being young and progressive, welfare and sustainability were at the top of our list when planning what we wanted to do with the farm. So, the first step was to find new technologies and companies with the same values us.'
We met Ace Aquatec at Aquaculture UK in 2017 and chose their trout stunner because it was an in-line system where fish can stay in the water so there's very little stress' said Oliver. 'As soon as the fish enter the stunner, they are rendered unconscious and when they come out of the stunner, they go straight into ice slurry which gets their body temperature down to sub 4 degrees quickly.
You can control the speed of the fish coming through the stunner and through the anodes and cathodes, which provides you with a much more effective, humane slaughter. From a welfare point of view, that's huge, but also from a meat quality perspective.
The main issue that we've had as an industry with electric stunning has undoubtedly been blood spotting but with the Ace Aquatec stunner, that blood spotting has diminished to sub 1% which is pretty incredible.
The main difference that the stunner has brought to our business is the ability to humanely harvest a considerable biomass of fish in a very efficient, safe and productive way,' said Shara. 'That helps hugely in terms of getting fish to the factory quickly and in a good state for processing. Efficiency combined with welfare is ideal.
After buying the stunner, Olly and Shara connected the fish farms to the on-site hydro-electric scheme developed by Olly and his father, Peter Routledge, in 2013. The fish farms are entirely powered by this green energy other than in exceptionally low-flow conditions, for which they are now planning an on-site ground-mounted solar farm.
Olly and Shara have also planted 180,000 native broadleaf and conifer trees over 220 acres in the last two years and are planning another 70,000 next year, which will hopefully take them to a quarter of a million trees planted at Selcoth specifically for biodiversity and carbon sequestration.
Fresh water fish farming is a very sustainable form of protein production. We get food conversion ratios averaging around 1:1 which compared to other farmed protein is exceptional.
Aiming for 100% sustainability is a no brainer and is the right thing to do when climate change is at the forefront of our minds. We want our children to be proud of what we've done, and we want to be satisfied that we are leaving the world in a better place than how we found it.'